Due to conference, I got off track on my schedule so this week I am giving away two very different books. To make sure you actually read the description, I am going to ask you which book you want to win and why. Yes, you can say you want to win both, but you may only want one. So tell me which one interests you, or if you want your name entered for both. Don't forget to leave me a way to contact you if you win. Best wishes to you!
About the book THE BIG PICTURE

Sometimes there's a fine line between comedy and tragedy—and Katie Parker is walking it. School is winding down for the summer but Katie Parker is having a bad day. After leaving the drive-in, where her imploding love life was the main attraction, Katie arrives home to a big surprise on the Scott's front porch. Her mother, Bobbie Ann Parker, a former convict and recovering addict, wants to take Katie away from her family, friends, and church. Now Katie's life will be changed by a series of dramatic choices as she struggles to understand what family and home really means.Katie is forced to walk away from In Between, leaving behind a family who loves her, a town drive-in to save, and a boyfriend who suddenly can't take his eyes off his ex. When the life her mother promised begins to sink faster than one of Maxine's stuffed bras, Katie knows she needs to rely on God to keep it together. But where is he in all this? Can Katie survive a chaotic life with her mother—and one without the Scotts? And if God is there, will he come through before it's too late? A Katie Parker Production series offers teen girls real-world fiction balanced by hope and humor. The Big Picture helps us realize that the difficult chapters in our journey are only part of God's big story for our lives.

"A heroine to love. Jones just gets better with every book, and The Big Picture is her best one yet."~BARBARA WARREN, author of The Gathering Storm

"Such inspiration in a package of fun and faith!"~EVA MARIE EVERSON

My thoughts:
I totally loved In Between, which was the first book in the series. I am waiting on my copy of the second book before I read this one. I didn't want to skip to the third book without reading the second. This author is fabulous and the series is incredibly well-written and interesting. It's a fun ride! I will post a review of this book after I finish The Big Picture.


About the book THE BLACK CLOISTER: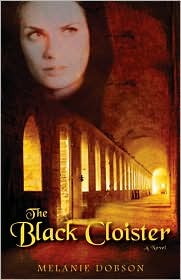 Synopsis of the story:
On Elise Friedman's eighth birthday, she lost her mother and any connection to her mysterious past. Raised by her loving stepfather, Elise has spent years trying to learn the truth about her mother, Catrina, and her birth family in Germany, but still knows very little. Now a young woman in college, Elise is traveling to her homeland of Germany to uncover her family's past, but what she finds is much more harrowing than she ever suspected.
Here was my endorsement.
This brilliantly written novel is sure to educate and inspire readers. The insight Dobson demonstrates regarding the minds of cult leaders and their victims is incredibly accurate. In fact, this is the by far best book I've read that addresses this important issue. I've worked with abused children and pedophiles for nearly two decades and the way perpetrators view the world is clearly skewed by their own twisted desires. The author brings that out in The Black Cloister and shows why women stay in situations that are obviously abusive and why they often don't tell anyone who can help them get out. Dobson weaves a powerful and emotionally gripping tale that at times was so suspenseful that I would rather read the story than eat or sleep. The conclusion is also satisfying as it shows the power of true Godly love and how truth is more powerful than evil when you cling to His promises and minister to His children. I would love to read a sequel to this story.