To enter to win a copy of this book, simply post a comment below and tell me why you think you'll like the book. Don't forget to leave me a way to contact you if you win. I will draw a winner on Sunday.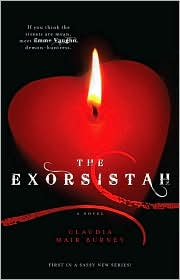 About the book:
She just wants a home, a hootie, and some kickin' boots.Does she realy have to fight the devil to get them?

After the creep who's married to her friend Kiki tries to assault her, Emme Vaughn finds herself in an all-night Walgreens at 3 a.m. with a quarter in her pocket and a rumble in her stomach. She sure does wish she'd gotten to eat her french fries before she had to kick and run. But God has his plan, and apparently tonight He means for her to whip some serious demon butt.
Ever since her mom went crazy, Emme's been wary of the gift they share for seeing demons, but she's not about to let one get to her. So when an ugly beast lurks into Walgreens behind a dude who's clearly up to no good, Emme tells it exactly where it can go. Problem is, the beautiful guy beside her at the magazine rack just helped her conquer the nasty duo, and now he wants her to join a group of demon-fighters led by his father, an aging exorcist bombarded by requests to deliver people from evil. Shoot, and all she really hoped for was some breakfast....
My thoughts on this book:
strong>div>
I'm on chapter 6 and laughed more times than I can count. A copy of the first chapter is posted on Amazon.com if you want to read it. As is typical of Burney's books, she deals with pain in a humorous fashion, yet really gets you thinking about what the character is dealing with (emotionally) at the same time. I just love the way Burney is so REAL in her novels and how she shoots out fast lines with her wit. So far this is a great read. Just don't bring it to church with you because people won't understand the insane laughter that will spew from your lips. When they ask what made you chortle and you tell them the story is about a girl kicking some demon butt, they will surely think your sanity has gone south. Enjoy!
*** NOTE: This book is not printed by a Christian publishing house. While there is some crass humor on occasion, there is also some Biblical teaching and spiritual content that is spot on.