To enter you name in the giveaway for this book you
must
comment on the review below. Just tell me what you think. Why do you want to read this book? I will pick a winner Wednesday. But don't forget to leave me a way to contact you if you win!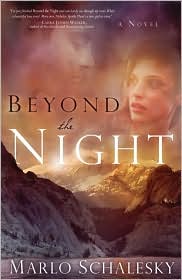 Product Description
They say love is blind. This time they're right…
As a woman lies unconscious in a hospital bed, her husband waits beside her, urging her to wake up and come home. Between them lies an ocean of fear and the tenuous grip of memories long past. Memories of wonder. Of love. Memories of a girl named Madison and a boy named Paul…
Madison Foster knew she was going blind. But she didn't want pity–not from her mother, not from her roommate, and especially not from her best friend Paul–the man she secretly loved.
Paul Tilden knew a good thing when he saw it. And a good thing was his friendship with Maddie Foster. That is, until he started to fall in love.
With the music of the seventies as their soundtrack and its groovy fashions as their scenery, Maddie and Paul were drawn together and driven apart. Then one night changed everything…forever.
And only now, when life tiptoes past the edge of yesterday, along the rim of today, can they glimpse the beauty that awaits them… beyond the night.
My review:
Beyond the Night
is an amazing love story that will make your heart sing. In some ways it had that sad/beautiful feel of yearning hope and unrequited love...sort of like the mood of Sparks's novel
The Notebook
, except this story wasn't rated R.
They beauty of the author's writing style filled me with awe, and the way she used dialogue and internal thoughts to convey deep emotion took my breath away. The interaction between Maddie and Paul was so beautiful it made you long for them to realize what they had. At times I wanted to climb through the pages and tell them to wake up and do something about the way they felt. It was awesome...and holy.
The spiritual journey was necessary and real, and didn't have a contrived element sometimes found in books where characters are angry at God for some loss they'd experienced. Everything flowed naturally. Even the scriptures.
Beyond the Night
is also a fabulous illustration of the necessity of God's perfect timing. It shows how God knows our needs and understands our pain even when we don't. It brings to mine a pop song that goes... "You can't hurry love, no, you just have to wait..." You can't read this story without feel changed by story's end. I highly recommend it.
Beyond the Night
was published by Multnomah and will be released June 17th!