To enter the drawing for the giveaway simply post a comment about what intrigues you about the book description and I'll put your name in the hat. I will pick a winner on Sunday. Don't forget to leave me a way to contact you if you win.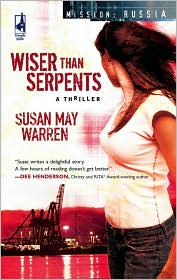 About the book:
Her sister had vanished, trapped in a human slavery ring. To find her, FSB agent Yanna Andrevka arranged her own kidnapping into Taiwan's sex-trafficking trade. And found herself with no way out.
Until Yanna discovered an ally deep undercover: Delta Force captain David Curtiss. He was after the kingpin of the Twin Serpents, the organized crime syndicate that had Yanna—and hundreds of others— in their clutches.
With opposite agendas, David and Yanna had to rely on each other to outwit their cold-blooded enemy.
My thoughts:
This sounds like my kind of story. Bummer is I don't have the book. But you can't go wrong with a Susie Warren title. Trust me.