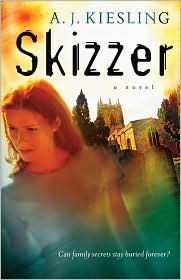 About the book:
When her sister Becca disappears, Claire returns to an abandoned estate where they played as children. There she finds a curious note: "Something terrible and wonderful has happened." A desperate chase begins, taking Claire from a haunted North Carolina inn to a rectory in Yorkshire, England. Can she solve the mystery---and save Becca?
My review:
Skizzer
is an interesting book, yet I'm not sure how I feel about it. The fact that I actually finished the story shows it's compelling enough for me to keep on reading, but I didn't perceive much of a spiritual journey for the main character until the very end, and even that was minor. There was not much of an emotional pull for me in this book, either. I guess I kept waiting for that to happen and then the story ended. I did find the sister dynamics interesting as well as the notion that sometimes history repeats itself with sudden disappearances of loved ones. The sense of distress I caught from Rainey was well-done in that I understood his bewilderment, but I was hoping for more of an emotional investment on my end.
So while this story didn't choke me up or keep me on the edge of my seat, it was a nice, cozy read sort of like Robin Gunn's
Finding Father Christmas
. I enjoyed that story, too, but it had a similar pacing, plot and theme that brought me along but never took my breath away. Maybe it's the English mystery thing that doesn't yank my chain. But I did enjoy some of the backstory in the book, especially the part where Aunt Jess tells about the family history. That said, I did enjoy this book, but something was missing...I'm just not sure what that something was.
Skizzer
was published by
Revell
and released in January 2008.