To be entered into the drawing all you have to do is enter a comment!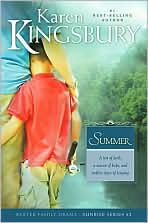 From the Publisher:
Hollywood actor Dayne Matthews and Katy Hart are married and living in Bloomington, Ind., where Dayne has found a solution to his on-camera love scenes-he wants Katy to star in his next film. Katy wins the part and is cast opposite her super-star husband. The story of a small town girl's dream come true is too much for the press to resist, and in an effort to appease them, the couple agrees to a 12. It seems like the perfect compromise but by the time they finish filming the movie, they feel cracks around the edges of their marriage. Now they face an uncertain future, and possibly the end of everything that truly matters to them.
The Baxter family learns that Ashley and Kari are both pregnant, but an ultrasound reveals that something is wrong with one of the babies. As the summer progresses, the sisters pray for a miracle while trying to face the unthinkable. It's in this trying season that they must all learn the lesson God has been trying to teach them-He is still in control, and He will be with them regardless of the outcome.
The Flanigans continue to draw closer to their only daughter, yet Bailey struggles to find her way amidst the turmoil of adolescence. She has always made good decisions, but she wants to experience more of life. Her friendship with Cody Coleman-the young border staying with the Flanigans-continues to blossom in this summer after his graduation. But when Cody decides to enlist in the Army, he'll have to say goodbye to the family he's come to love and the girl he'll never forget.
My thoughts:
I loved the first book in this series, Sunrise. This one looks like it will be even better. I've started this story and hope to have a review completed soon. The fact that this book is on the NY Times best-seller list is pretty impressive, too.