*** please note *** unlike other giveaways, this one will span the entire week as I'll be out of town at the ACFW conference from Tuesday through Sunday. I'll pick a winner late Sunday night or on Monday at the latest.
The sequel to
Frasier Island
,
Finding Marie
can also be read as a stand-alone. It's action packed and I'm loving it! I'm on chapter 12. To enter the giveaway just post a comment. Here is more about the book.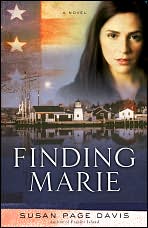 From the Publisher:
Author Susan Page Davis takes readers on an adventure across the United States in this exciting contemporary suspense novel.
Marie Belanger, a naval lieutenant's wife, unexpectedly finds a computer flash drive in her carry—on luggage at the airport. Moments later the woman she had been sitting with on the plane from Tokyo is murdered. Suddenly her journey from San Francisco to her home in Maine becomes a nightmare as Marie is forced to run for her life. Her husband, Lt. Pierre Belanger, contacts his best friend, George Hudson, and together they set out on a search for Marie that spans the country. As hard as they try, they seem to stay one step behind their enemies, who are just one step behind Marie.
Readers will find Finding Marie to be an engrossing novel of faith, honor, and courage set against a background of deceit and betrayal.