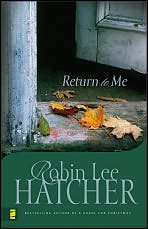 Synopsis
(from the publisher)
Roxy Burke left her family vowing to become a country-western star. Now shes homedreams shattered, her life a mess. What no one could have predicted is the effect the return of this prodigal has on her family. Its not just Roxy who needs the healing power of grace.
(My review as seen in ACFW's E-zine, the August edition.)
Return to Me by Robin Lee Hatcher is a powerful example of the ideal Christian fiction novel. It parallels the story of the prodigal son and was so engaging that I finished the story in one day. I just couldn't put it down. I identified with Roxy despite her many flaws.
Roxy's change of heart when she discovered Christ in an unlikely setting reminded me of my own personal experience. I remember the same still, small voice calling out to me until I finally gave my heart to the Lord. Of course, Roxy's older sister Elena decided Roxy needed to experience additional consequences for her sin. Like what Roxy had naturally suffered as a result of squandering her inheritance hadn't been painful enough, and not realizing, of course, all that her sister had already lost because of her poor choices. I've never seen a better example of how self-righteousness wounds new believers and destroys relationships and trust.
Return to Me is also a wonderful illustration of the emotional and spiritual fallout resulting from manipulative rejection, and the believer's need for a close walk with the Lord in order to resist pride and jealousy when new Christians succeed where they may have struggled. Thus the spiritual arc of the characters comes across as very genuine, especially when it comes to the older sister's attitude.
There are some gritty situations in this story, but nothing I wouldn't let my teenager read. Overall, it's a fabulous example of the regrets people experience as the result of poor choices, and the subsequent struggle to forgive one's self. The author concludes by portraying the Scripture that refers to all things being possible through Christ Jesus. I highly recommend this story because of the life-changing lessons within.
Return to Me
was published by
Zondervan
and released in June 2007.