To enter for a chance to win this book simply post a comment. Here is the question... Have you ever dreamed about starting over in a new place/city? Have you done that and if so, what happened? I'll go first. My husband and I met in New York. I'd lived there over 20 years, and he lived there over ten. Neither of us liked snow. So we sold everything and moved to Arizona after we felt God calling us to move somewhere else. No jobs yet, but I was hired via telephone interview two days before we planned to hit the road. We've never regretted it. We love Arizona. Now the story description below suggests Jeena didn't have it so good. Stepping into the unknown can be scary. So what's your story? I'll pick a winner via the Randomizer program next Sunday. Best wishes Everyone!
Finding Jeena: A Novel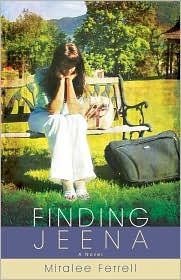 About the book:
Jeena Gregory's new job promised big things--new clothes, new townhouse, new car, new furniture... in short, a new life. But when rumors around town cast her boss in a shady light, Jeena worries her carefully-crafted world is about to crumble. Shaken to the core as she faces financial and emotional ruin, Jeena is suddenly confronted with her prejudices--and with a God she had long forgotten.