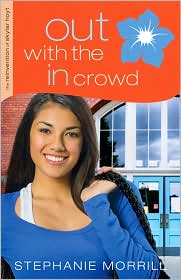 About the book:
Skylar Hoyt may have vowed to change her partying ways, but it's not so easy to change her friends. Even though the old Skylar is gone, she's still not sure who this new Skylar really is. Add to that two parents battling for her loyalty, a younger sister struggling with a crisis pregnancy, and a new boyfriend wishing for more of her time, and Skylar feels like she can't win. After all, how do you choose favorites among the people you love most?
My review:
Out with the In Crowd was excellent. I liked it even better than the first book, and I definitely recommend reading them in order to get the full effect. I may not have liked Skylar had I started with the second book. However, I understood her well by the time I read this second novel in the series so it worked for me. The plotting, inner dialog, and characterization were incredibly realistic and totally reminded me of my highschool days with the on and off relationships and the worries teens had. And the petty things girls and guys did like participating in activities just to be around certain people you liked - drove me nuts! (But did that myself a time or two).

There was so much good stuff that could be gleaned from this story. I loved the portrayal of the sister's pregnancy and the undecidedness that often occurs with girls who are so young. Skylar did a great job trying to be there for her family while suffering from a bit of self-absorption herself. But hey, she was a teenager and a senior trying to figure out her own path to take after graduation. I really appreciated how this story showed that running away from your problems (or denying them) solves nothing, and in fact, often makes things worse. I am so glad I'm done with high school and have been for many years. I just wish they'd had realistic books like this when I was a teen because this story includes Christian themes and attitudes and the need for a personal relationship with Christ that simply didn't exist when I was young. I am really looking forward to the third book in this series. This is making my best fiction of 2010 list! I must have a thing for books published by Revell/Baker. LOL!
Thank you Revell for sending me this book to review for the tour!
Out With the In Crowd was published by Revell and released in January 2010!