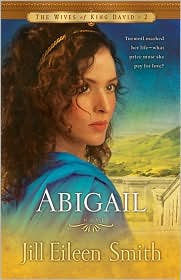 About the book:
Abigail's hopes and dreams for the future are wrapped up in her handsome, dark-eyed betrothed, Nabal. But when the long-awaited wedding day arrives, her drunken groom behaves shamefully. Nevertheless, Abigail tries to honor and respect her husband despite his abuse of her. Meanwhile, Abigail's family has joined David's wandering tribe as he and his people keep traveling to avoid the dangerous Saul. When Nabal suddenly dies, Abigail is free to move on with her life, and thanks to her brother, her new life includes a new husband--David. The dangers of tribal life on the run are serious, but there are other dangers in young Abigail's mind. How can David lead his people effectively when he goes against God? And how can Abigail share David's love with the other wives he insists on marrying?
My review:
This novel should be on the NY Times best-seller list. I'm not kidding! In fact, I don't think I've ever said this before about any book I've reviewed. For people who love Biblical fiction, this story should knock their socks off. I'll tell you why...
I was totally entrenched in the lives of the characters and the setting the entire time I read this book. I would've read it straight through if life hadn't gotten in the way. I loved the realism, the emotion, the romance, the way the characters communicated. And the whole multiple wives and the jealousies between them was masterfully done. The writing in this book was also top-notch. It was gripping and smooth with no jarring moments or clunky writing phrases. Can you tell I loved this book?
Abigail's story touched my heart, inspired me, and made me want to love people more. I also loved the multiple love scenes between Abigail and David. Hot, but tasteful, which is the way it should be. Very realistic and just edgy enough to make me want to say, "Go, Jill!" The way the author illustrated Abigail's marriage to Nabal was great, but it was even more exciting when her life touched David's. And when she had her first child I was impressed with how she showed David's handling of the situation and her misunderstanding it.
Here is the best part! Unlike a lot of secular Biblical fiction authors, Jill Eileen Smith shows David's imperfections and those of his wives with great taste and in a way that honored God. He was easy to love in spite of his flaws because she handled his character development so well, while at the same time keeping it true to the Scriptures. One of my favorite aspects of this story was how the author sprinkled various Scriptures into the scenes when they were appropriate. Wonderful, wonderful book and highly recommended.
Abigail
was provided by
Revell
for me to review and was released in February 2010.