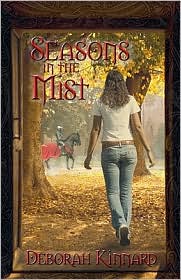 About the book:
Stranded in 1353 Cornwall, American graduate student Bethany Lindstrom knows she must find a way back to her own time or face a life of falsehoods and peril. But with the stern overlord Sir Michael Veryan, she is swept into the intrigues of King Edward's court, which will test their mettle and their faith in God to the limits-and forever bind their lives together.
My review:
This Medieval tale of love is rich with historical detail and lyrical prose. The characters, setting, language, culture, and the pure simplicity of it all creates an escape for the reader that is so fantastic it is hard to pull one's mind back to the present. And the romance was awesome. Too bad it's not real life. Michael was so heroic and yummy I couldn't get enough of him.
Full of passion and emotion,
Seasons in the Mist
takes historical fiction lovers on an emotional ride they won't soon forget. Is time travel a new trend in Christian fiction? This novel may very well start one because it grabs the reader and pulls them through a portal that is so realistic and convincing readers will be hooked and want more from this author. I, for one, thoroughly enjoyed the ride. I hope there is a sequel in the making.
Seasons in the Mist
is published by
Sheaf House
and releases in April 2010. Make sure to pre-order this book today! It's available everywhere. Here is a link on Barnes and Noble's site.
Pre-order Seasons in the Mist
!