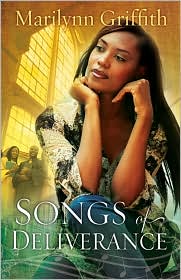 About the book:
Fifteen years ago, Zeely Wilkins and Ron Jenkins were students the school district stopped believing in. Lucky for them, their teacher knew something the principal didn't; they were cream of the crop but they just hadn't sprouted the way people expected.
Though they went their separate ways, the past is calling them back to the school and the teacher who wouldn't give up on them. Now they'll have to decide what love really means--and whether they're willing to dance to a new tune to get it. But can they rediscover the songs of deliverance that once brought them together? Or will secrets keep them apart?
My review:
Songs of Deliverance
contains beautiful prose and insightful moments that make the reader think. I feel like I did myself a disservice by not reading the first book first, though. It seems like several foundations were laid in the prior book that I didn't have full access to since I began with the second in the series. I don't recommend that because it took away from my overall experience.
That said, this story also contained more than a few "no way" moments for me. I felt like I was watching a talk show similar to Maury Povich where skeleton after skeleton came out of the closet. There were several situations that were unbelievably coincidental. But I have to say that made for great drama like you'd see in a soap opera. People were discovering all kinds of things they never expected, and parents that were not who they thought they'd be, etc. And tortured characters? This author has mastered that technique.
The romantic elements were fabulously yummy and the message about true love and marrying for the right reasons and not to rescue someone were believable themes that were very well done. The faith element was strong and the book wrapped up the loose ends. I read this book quickly, and while a bit confused at first (due to starting with the second book) I was able to pick up on things and move on. I recommend it.
This book was provided for review by Revell Publishing House.