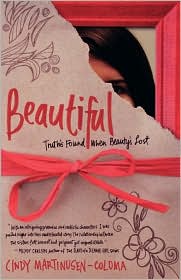 BLOG TOUR FOR

BEAUTIFUL – Author Cindy Martinusen-Coloma
January 25 – February 2, 2010
My review:
Beautiful stirred my heart several times. I found my eyes welling with tears of both heartache and joy as Ellie discovered herself for the first time while she healed from the accident. The author did a great job with character development and making them three dimensional. I loved the interaction between the heroine and the guys in her life. There were some amazing heroes and secondary characters in this book. Even the parents were genuine and believable. I didn't see any plastic characters or artificial faith.
This story had depth and heart. It in no way trivialized the trauma this girl went through and did a great job pointing out how sometimes what people say in awkward situations just hurts people more (God has a plan - true, but grieving people don't necessarily want to hear that when they are hurting.) I, too, felt her pain and the grief she went through. Everything she experienced made sense and was totally fitting her situation. In short, I was this girl. I went through the valley with her, which explains its profound impact on my heart.
I can totally see this novel opening the eyes of many girls who have taken the good things in their life for granted. And like Ellie's sister, Megan, this story should change them. After going through something like Ellie experienced, most things do seem awfully petty and stupid. I highly recommend this book, which was provided by Thomas Nelson for me to review.
About the Author:
Now a bestselling author, Cindy launched into her writing dream in 1988, developing story ideas and writing plays for her church. Her first novel was contracted in 1998. Since that time, Cindy has published 9 novels, 2 nonfiction books and over 100 articles, short stories, and curriculums.
Her critically acclaimed novels have been finalists for the Christy Award and Reader's Choice Award (Romantic Times) and chosen for the List of Best Books by Library Journal.
Her novels have been translated into Dutch, German, and Norwegian.
For the past ten years, Cindy has been speaking and teaching in different locations nationally and internationally. Her roles include conference leader, featured speaker and workshop leader at numerous women's gatherings, retreats and writers conferences most notably Litt-World 2004 in Tagaytay City, Philippines, Mount Hermon Christian Writers Conference and Oregon Christian Writers Conference.
Cindy understands small town America and continues to live near her childhood home (where her parents still live). She regularly hangs out with friends she's known since elementary school. Home for Cindy is in Northern California with her husband, three children, and their singing dog.
FREELANCE WRITER & NOVELIST
Author under the name of Cindy Martinusen or Cindy Coloma:
Y/A NOVELS:
CALEB + KATE (To be released May 2010 Thomas Nelson Publishers) BEAUTIFUL (Released November 2009 Thomas Nelson Publishers)
RUBY UNSCRIPTED (May 2009 Thomas Nelson Publishers)
NOVELS:
ORCHID HOUSE (2008 Thomas Nelson Publishers)
THE SALT GARDEN (reprint 2007 Thomas Nelson Publishers)
EVENTIDE (2006 Thomas Nelson Publishers)
THE SALT GARDEN (2004 Tyndale House Publishers)
NORTH OF TOMORROW (2002 Tyndale House Publishers)
BLUE NIGHT (2001 Tyndale House Publishers)
WINTER PASSING (2000 Tyndale House Publishers)
NONFICTION:
RENTING LACY: A Story of America's Prostituted Children (2009 co-author with Linda Smith)
THE BEST IN TENT CAMPING NORTHERN CALIFORNIA (2008 Menasha Ridge Press co-author)
Over 100 articles, plays, curriculums and short stories focused primarily on parenting, family, spiritual matters, and travel. Includes publications: Focus on the Family, HomeLife, ParentLife, Light & Life and others.
RECOGNITION & TRANSLATIONS:
o Winter Passing, Blue Night, and North of Tomorrow translated and distributed by Dutch, German, and Norwegian publishers. The Salt Garden and Eventide in Dutch.
o Orchid House -- ECPA bestseller in 2008.
o The Salt Garden listed on Library Journal's Best Books of 2004.
o Winter Passing finalist in The Christy Award and Romantic Times' Reader's Choice Award 2001.
WORKSHOP LEADER
Co-founder Quills of Faith Writers Group since 1997 – open to community -- offers free workshops, accountability, market help, and weekend seminars, etc.
SPEAKER & WORKSHOP LEADER
Radio & Television guest. Conference Leader and Workshop Leader – numerous retreats and writers conferences most notably Litt-World 2004 in Tagaytay City, Philippines and Mt. Hermon Christian Writer's Conference, among other groups, classroom guest, and public events.
cindycoloma@gmail.com
http://www.blogger.com/www.cindycoloma-ya.com
http://www.blogger.com/www.cindycoloma.com
Blog tour stops here...
January 25, 2010
Katie at Katie's Book Shelf
Deborah at Books, Movies, Chinese Food
Amy at Girlfriends Get Real
Interview (Review posted Jan. 22)
Alea at Pop Culture Junkie
Molly at Books Reviews By Buuklvr81
Michelle at Edgy Inspirational Author