To enter to win a copy of this book simply post a comment about whether or not you've ever moved back to your childhood home after moving away. If you want to tell us why you did that, go ahead and share. I'll go first. I did move back home after college graduation for a short time (about 9 months) and I did it because I couldn't afford both a car and rent. When I got a few roommates lined up I moved out. Then I ended up marrying my current husband. Anyone else? I'll pick a winner next Sunday.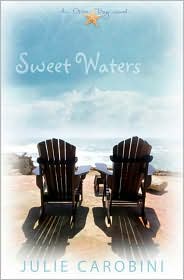 About the book:
After her fiance dumps her, her sister relocates to Manhattan, and her mother remarries, Tara decides to move from Missouri to her childhood home of Otter Bay, California. But as she settles in and finds a new flame in firefighter Josh Adams, she discovers shocking family secrets that could turn her fairy-tale life into a soap opera.
My thoughts:
I read the first chapter and the writing is very easy to read. The tone of the story is honest and just dramatic enough to pique my curiosity. I hope to finish this book later and post a review when I'm done. Maybe even this week.