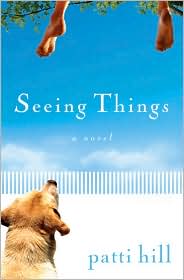 About the book:
Birdie Wainwright, 72, isn't concerned about seeing things that others can't. For a woman who still climbs mountains with her dog (Miss Bee Haven) and likes to tango, the impractical visions brought on by macular degeneration are just another gift from God, adding more adventure to life. But when a tumble down the stairs breaks her ankle and leads back to her son's home in Denver where she must convalesce, Birdie's imagination really takes flight. Following a conversation with her grandson about
The Adventures of Huckleberry Finn
, she begins to see and speak with the unkempt literary character himself on a regular basis. As the line between reality and whimsy turns brittle, faith is tested among friends and loved ones, and hope is reborn.
Seeing Things
is a story about family, reconciliation, and hearing from God in unexpected ways.
My review:
Seeing Things
is an entertaining story. The author's voice is strong and I loved how it sounded very "senior citizen." I adored the main character, Birdie, and enjoyed getting to know her through her inner dialog. This entire story was incredibly creative and unique. I learned a few things about people with AMD as well. What I enjoyed most about this novel were the relationship dynamics and how realistic the author made the tension in Fletcher's family. Also, the whole issue about trying to help Birdie be safe was interesting because it's so common and most families will struggle with this issue regarding aging parents. The only thing that threw me off a bit was how things transitioned at the end. It seemed like more of a leap than a gentle progression toward resolution. It was too sudden. But I enjoyed the romantic tension between the old folks, so that more than made up for it. That theme was very well done. Overall, this was a good story and I'm glad I took the time to read it.
Seeing Things
was published by
B&H
and released in Sept. 2009.