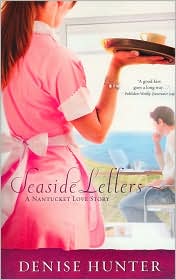 About the book:
Their letters could lead to lasting love . . . or expose Sabrina's mortifying secret.
Sabrina Kincaid didn't intend to fall for Nantucket native Tucker McCabe, the man she serves coffee to every morning--a man tied deeply to a past she deeply regrets. But she has. And she's fallen hard.
But she's kept this a secret from her handsome customer. And now Tucker wants to hire Sabrina to help locate his friend "Sweetpea"-the mysterious woman he's falling in love with online. Sabrina is not inclined to help, but if Tucker hires someone else, it could spell disaster. Because if someone else sifted through the e-mails and figured out the truth--then Tucker would discover that the person he's trying to find is . . . her.
My review:
I read Seaside Letters straight through in one day, and as busy as I am that is no small feat. Every time I pick up a romance by Denise Hunter I know I will get an awesome allegory about God's love for us. This story did just what I expected. It showed how we try to hide the truth about ourselves when all along Jesus knows who we are and he's just waiting for us to be real with Him and trust Him. And like Sabrina in the story, we don't understand how we can be forgiven. Yet, Christ woos us and tries to show us by his gentle love that He longs for a relationship with us. He understands our weaknesses and reaches out to us despite the barriers we often erect to surround our hearts.
Like Tucker, the hero, Christ knew us long before He reveals Himself to us. He sought us out because He loved us first and just wants us to love Him back. Despite her past, Sabrina longed to be loved for who she was even though she'd never felt good enough or pretty enough to deserve it. And being betrayed by her fiance right before their wedding was more proof that she was unloveable, in her estimation. I loved how this story showed occasional pain-filled situations from the past and did so in the "moment" as if it was happening right then. Wow.
I found the conflict and tension very enjoyable and loved how the relationship between the characters slowly developed. I kept wanting her to just let him love her the way Jesus wants us to let Him love us. But because this is a romance, the kind of love is different in this story...it's romantic. And as expected, there are some heartpounding moments that seem so real that I was pulled totally into the setting and the moment. I have to say that Denise is one of the best romance writers when it comes to setting up the situation for the perfect romantic first kiss. Heavy sigh. That was so awesome.
Bottom line, if you enjoy allegories with spiritual depth and meaning, you'll love the Nantucket series. If you are just looking for a romance without the underlying message, you will probably miss it in this story. But because I'm a Believer, it really warmed my heart. I highly recommend it.

Seaside Letters
was published by
Thomas Nelson
and released in October 2009.