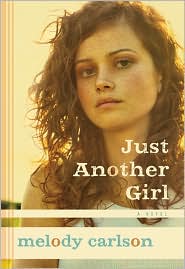 About the book:
Aster Flynn has a problem. She's forced to babysit her younger sister because her dad's MIA, her mother works, and her older sister won't help. But when a popular guy seems interested in her, Aster hatches a plan. Can she get her parents to act like adults so she can finally be who she is---a 17-year-old?
My review:
I absolutely loved this story! It's going down in history as my favorite Melody Carlson book ever. I'll tell you why. Because it is so realistic and believable. I have worked for the past eight years with people who have developmental disabilities and I have clients of various ages and levels of disability. I have never read a book before that so accurately demonstrated the challenges faced by family members who are dealing with a teenager who is mentally much younger than her actual age.
The author blew me away with the accuracy because the details that are so true-to-life. She described a number of female clients that I work with. I was very impressed with how the author didn't try to be politically correct, but showed exactly how real people feel at times when dealing with such challenging behavior and the often overwhelming responsibility for another person. The author also showed the family's dysfunction well. The spiritual thread in the story was tight and fit the setting, but did not overwhelm the plot.
I can't say enough good things about this story. Wait, I think I already said this. Well, it's so true I'm saying it again. I have read books before that slip in characters with disabilities but they are often so stereotyped that it annoys me. That is not the case with this novel. I'd recommend this book to not only teens but also adults and family members who simply need encouragement. There are no easy solutions here, but there are themes that will edify readers and help them to see that they aren't alone in their struggles.
I also loved how the author showed that there is often help for families that they may not be aware of. These services will help people better take care of their family member. Maybe one of the reasons I also adored this story was because like Aster, I was that teenager, only I was responsible for taking care of my mother who had MS and was bedridden. Like Aster, I felt like I had no life for a number of years. It's tough being responsible for so much at such a young age. It matures you quickly when you aren't able to be a typical teen. Anyway, this book is making my favorites of 2009 list. I'm so glad I had a chance to review it!
Just Another Girl was published by Revell and released in January 2009.