To enter to win a copy of this book simply post a comment about whether you've gone through the valley or not. Did you ever feel like things had gotten so bad that you couldn't walk through a more painful valley or darker place, but in the end you learned the truth about something that made it worth the trial? I'll pick a winner next Sunday, August 8th.
I'll also go first. I did go through a dark valley in 2006. I'll say on record it was the most painful year of my life. No need to say why, but one thing I did learn from that experience is how much God loves me and how much pride hurts the soul. I have learned not to say "I'd never do that" the hard way. God showed me just how weak I could be if given the right circumstances. Anyway, God has richly blessed me and as the scriptures say He binds up those He wounds. I felt the healing He brought to my soul in a powerful way, and I will always remember His deep and everlasting love for me through it all. Anyone else want to share?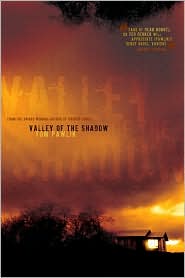 About the book:
Conner fought his way through the woods. Tendrils of mist curled around his legs like serpents seeking to pull him to the ground. But he had to keep going.
He had been here before.
He heard no voices this time. No ghostly whispers from the dark, save one. One single, moaning plea.
Help me!
A shadowy world between life and death, where your worst fears can become reality.
One man lingers on the threshold.
Another has escaped, but he didn't come back alone.
And a third searches for answers as his nightmares draw him back.
Sometimes, to get to the truth, you have to walk through the valley.
My thoughts:
Oh boy, doesn't this sound great?!?! I don't have the book (wah!) so I can't say that it's good. My husband loved the first book so if this one is even half as good it's another winner. :)