To enter your name to win a copy of this book simply post a comment regarding infertility issues or abortion issues. They are the subjects covered in this great book that I wholeheartedly endorsed. It's an awesome read. Now here are my thoughts...
I know numerous couples who don't have children who are in there forties and fifties. Some by choice, but most not by choice. I can only imagine the heartache from wanting to have a child and being unable to do so. And then there is the anger that would arise from knowing that people have simply discarded the children they conceived at the "wrong time" in their lives when they (the other couple) longs for a child. It does seem very unjust. I would think all of the Scriptures about barren wombs would stick out as I read the Bible. I imagine I would be angry, too. Fortunately I haven't had to deal with that kind of pain because I was pregnant twice and had two children who are both alive an well. But I know of numerous couples who have had issues that cause a lot of pain and grief. I also have known people who have gotten one abortion after another because they don't believe in birth control (don't ask, it doesn't make sense to me either.) Anyway, that is my spiel. So what do you all have to say about this subject?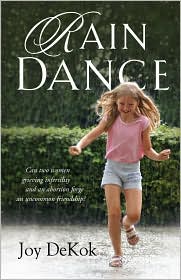 About the book:
Jonica and Stacie meet in a doctor's office at a critical turning point in each of their lives. Jonica is ending unsuccessful infertility treatments and accepting the death of her dream of having children. Stacie has come to schedule the termination of her pregnancy so she can further her dream of a career in law.
Tentatively the two young women reach out to each other. Can they forge an uncommon friendship that will forever transform their future?
My endorsement:
"Rain Dance is compulsively readable. In that I mean that the characters draw you in and you feel like you want to keep reading their individual stories. There is a lot of emotion packed between the pages and the faith element is also very strong. I enjoyed the dynamics between the two friends and reading about their emotional and spiritual challenges. There are several wonderful, healing messages in this novel."--(Michelle Sutton, author of the Second Glances Series)