Okay. This is going to be an interesting discussion. To enter for a chance to win this book simply post a comment. Here is the catch...talk about missing children. Do you know any children who have simply disappeared and they now have their picture on a milk carton or poster? Can you imagine how you would feel if one of your own children went missing? Worse, what if you discovered that you were the missing child? I can't imagine.
I'll go first. My dad knew a college professor whose teenage daughter suddenly disappeared back in the late 1970s. To this day no one has ever seen her. My father introduced us because this man taught at the college I attended. I went to his house. Her picture was on the wall. Though he never spoke of it to me, I'm sure his grief was beyond comprehension. That's it for my comment. Now what about you?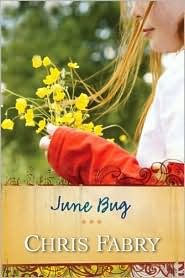 About the book:
I believed everything my daddy told me until I walked into Walmart and saw my picture on a poster. . . .
For as long as she can remember, June Bug and her father have traveled the back roads of the country in their beat-up RV, spending many nights parked at Walmart. One day, as she walks past the greeter at the front of the store, her eyes are drawn to the pictures of missing children, where she is shocked to see herself.
This discovery begins a quest for the truth about her father, the mother he rarely speaks of, and ultimately herself. But when her fathers past catches up with them, forces beyond his control draw them back to Dogwood, West Virginia, down a winding path that will change their lives forever.
My thoughts:
I have an ARC for this book. I haven't had a chance to crack it open yet but it sounds like my kind of story!