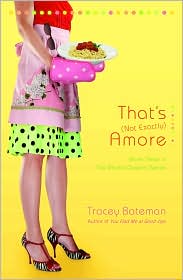 About the book:
When Laini Sullivan lands a job designing Nick Pantalone's coffee shop, there are two problems: one, Nick's nephew Joe hates all of her ideas and two, Laini has to admit he's right--she's a disaster at design. Still, she can't risk losing the job. To compromise, Joe brings in help on the project, while Laini continues to bake the goodies that keep his customers lining up.
Their relationship is moving along, so when new guy Officer Mark Hall implies that Joe's family is tied to the mob, Laini doesn't want to believe it. But things spin out of control when she meets the family, including "the uncles," who seem to confirm Mark's suspicions. To make things worse, Nana Pantalone makes it clear Laini isn't the kind of girl she has in mind for her grandson. Laini's not sure if she should give Joe the benefit of the doubt or just set her sites on Mark and fuhgetaboutit.
Guest book review written by Sarah Salter:
In this third book in Tracey Bateman's Drama Queens series, Laini Sullivan is at a crossroads in her life. Her two best friends and former roommates have moved out and moved on. She's single, alone, and struggling to finish design school—which she hates and is pretty sure she's going to fail. Her friend, Nick Pantalone, offers her a break designing his coffee shop for her design school project.
Laini is almost ready to believe that she can survive design school and pass the remodeling project when her long-time crush, Nick's nephew Joe, takes over management of the coffee shop and vetoes her design ideas. Soon, she finds herself juggling two men, a job, and design school. Laini has to decide what—and who—her dream is so that she can finally step into her future and let go of her past.
I loved the character of Laini Sullivan. She's in a terrifying situation of trying to both decide what her dreams are and reach for them at the same time. Although this is a chick lit, Bateman gives us a taste of romance and a taste of suspense, too. Will Laini choose the handsome, knight-in-shining-armor policeman or will she choose the smooth, gorgeous Italian coffee shop manager? Or will she totally blow it with both of them? And will Laini pass design school or should she focus on something that she's more comfortable doing? As a reader, I couldn't stop turning the pages because I just had to know!
That's (Not Exactly) Amore
is a fun chick lit, laced with drama. Using a comfortable tone that is reminiscent of a friendly chat over Joe's coffee and Laini's cinnamon rolls, Bateman manages to both entertain the reader and teach them some lessons at the same time. This book is a great weekend or vacation read. I recommend it and I look forward to sampling Tracey's other literary delicacies.
That's (Not Exactly) Amore
was published by
Faith Words
and released in August 2008