I will draw the winner's name next Sunday, May 31st. :)

To enter your name into this giveaway contest, simply post a comment about whether or not you're ever had an obsession and if you have (and are brave enough) then share what it was. I'll go first. I used to be obsessed about my weight. I know that is cliche, but when I was a teen I was never happy with how I looked (ironically I was much thinner in those days) but the Lord healed me of that obsession when I confessed it and I've not obsessed about my body image since (over 22 years now). So what is/was your obsession?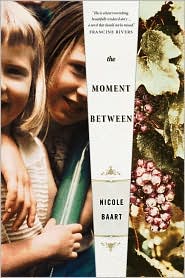 About the book:
It is us against the world, Abigail thought. You and me.... Sisters.
Abigail Bennett was completely in control of her life until tragedy pushed her to the brink of something shed never experienced: obsession. Now, shes given up everything shes ever worked for to chase down the object of that obsession. His name is Tyler Kamp. As Abigail follows him across the border into Canada to a beautiful winery in British Columbia, her journey is awash in memories of family and childhood, especially those of her younger sister, Hailey. Dangerously beautiful yet indefinably needy, Hailey seemed to take all the risks Abigail avoided. Until now. But even as Abigail races into her future, her past continues to pull her back. Only when she is brought to the edge of her obsession will she be able to come to terms with the tragedy that ignited it.
A breathtaking story about the emotional risks of relationships,
The Moment Between
explores the cost of regret, the desire for revenge, and the redemptive power of forgiveness.
My thoughts:
Interestingly enough, I don't have this book on my shelves. It sounds like my kind of read, too. Bummer. I loved Nicole's first book (the sky blue one with the yellow chick on the cover) so I'm sure this "reality" fiction is quality stuff, too.