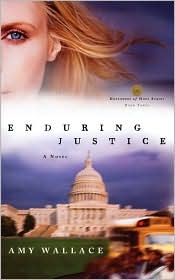 About the book:
A painful past
Hanna Kessler's childhood secret has remained buried for over two decades. But when the dark shadows of her past threaten to destroy those she loves, Hanna must face the summer that changed her life and the man who still haunts her memories.

A racially-motivated killer
As a Crimes Against Children FBI Agent, Michael Parker knows what it means to get knocked down. Difficult cases and broken relationships have plagued his entire year. But when the system fails and a white supremacist is set free, Michael's drive for retribution eclipses all else.

A life-altering choice
A racist's well-planned assault forces Hanna and Michael to decide between executing vengeance and pursuing justice. The dividing line between the two is the choice to heal. But when the attack turns personal, is justice enough?
About the Defenders of Hope series:

Visit http://www.defendersofhope.com/

Buy the book:
http://www.amazon.com/gp/product/1601420145

Excerpt:
http://www.amywallace.com/ej_chapter.html


About Amy:
Amy Wallace is a freelance writer and self-confessed chocoholic. She is a graduate of the Gwinnett County Citizens Police Academy and serves as the liaison for the training division of the county police department. Amy is the author of Ransomed Dreams, the first book in the Defenders of Hope series, and a contributing author of several books including God Answers Moms' Prayers, and God Allows U-Turns for Teens. She lives with her husband and three daughters in Georgia.


Contest:
Enter to win all THREE BOOKS in the DOH series by signing up for Amy's Dark Chocolate Suspense Newsletter and then leave a comment on this blog tour post (http://peek-a-booicu.blogspot.com/2009/04/enduring-justice-blog-tour.html). It's chock full of insider info on the writing world, a thought-provoking devotion, and easy but yummy recipes. If you already subscribe to the newsletter, just leave a comment saying so on the blog tour post! The winner will be chosen at random on 5/8/09. Two runner's up will also be chosen to win a copy of Enduring Justice.

Schedule for blog tour: http://peek-a-booicu.blogspot.com/2009/04/enduring-justice-blog-tour.html

4/27
Denise at Under the Boardwalk
http://nisefunpages.blogspot.com/

Sally at Book Critiques
http://bookcritiques.blogspot.com/

Tammy at Three Different Directions
http://threedifferentdirections.blogspot.com/

Mimi at Mimi's Pixie Corner
http://tagsandotherformsofmischief.blogspot.com/

Pamela at Aunt Pam's Closet
http://insearchofhealthylife.blogspot.com/

Ginger at Conversations with a Stranger
http://www.gingertate.blogspot.com/

Marietta at Mari's Morning Room
http://www.marismorningroom.blogspot.com/


4/28
Ruth at Christian Fiction Queen
http://www.xanga.com/christianfictionqueen

Cathy at Word Vessel
http://wordvessel.blogspot.com/

Melissa at A Weak Rose
http://www.aweakrose.blogspot.com/

Gina at Portrait of a Writer
http://portraitofawriter.ginaconroy.com/


4/29
Amy at The 160 Acre Woods
http://the160acrewoods.wordpress.com/

Mindy at Ponderings of the Heart
http://philippians4verse8.blogspot.com/

Margaret at The Cappuccino Life
http://www.homeschoolblogger.com/cappuccinosmom/profile/


4/30
Lena Nelson at Christian Writer's World
http://lenanelsondooley.blogspot.com/

Leticia at My Daily Trek
http://shadowbearcat.bravejournal.com/

Jill at Christian Work At Home Moms
http://blog.cwahm.com/

Laura at Lighthouse Academy
http://lighthouse-academy.blogspot.com/


5/1
Marta at Marta's Meanderings
http://martasmeanderings.blogspot.com/

Kaylea at My Scrappy Life
http://kaytebug2002.blogspot.com/

Melissa at Breath of Life
http://breathoflifeministries.blogspot.com/


5/2
Deborah at Books, Movies and Chinese Food
http://books-movies-chinesefood.blogspot.com/

Amy at Sprightly
http://sprightly-amyanne.blogspot.com/

Christy at Christy's Book Blog
http://christysbookblog.blogspot.com/

Deborah at Comfort Joy
http://comfortjoydesigns.blogspot.com/


5/4
Dineen at Kittens Come From Eggs
http://dineenmiller.blogspot.com/

Kate at A Simple Walk
http://asimplewalk.blogspot.com/

Donna at Write By Faith
http://writebyfaith.blogspot.com/

Jill Elizabeth at Artistic Blogger
http://www.jillelizabethnelson.com/artisticblogger.html


5/5
Peggy at Sips & Cups Café
http://www.sipsncupscafe.com/

Cara at Cara's Musings
http://carasmusings.blogspot.com/

Amy at My Friend Amy
http://www.myfriendamysblog.com/


5/6
Janice at The Nearsighted Bookworm
http://www.thenearsightedbookworm.blogspot.com/

Kara at Ramblings-n-Writings
http://ramblings-n-writings.blogspot.com/

Suzanne at Clicking Her Heels
http://www.clickingherheels.blogspot.com/


Michelle at Edgy Inspirational Author
http://edgyinspirationalauthor.blogspot.com/


5/7
Lauren at Reading Grounds
http://readinggrounds.blogspot.com/

Camy at Camy's Loft
http://camys-loft.blogspot.com/

Christa at Christa Allan
http://cballan.wordpress.com/

Mary at Home Steeped Hope
http://homesteepedhope.com/

My review:
Isn't the cover incredibly attractive? I love it! I am not quite finished yet with the book so a complete review won't be posted for another day or so, but I can honestly say that this read is fantastic and the emotions that coincide with Hanna's past were very well done. The thugs are creepy. The writing is intelligent. It's ALL good. A full review coming soon! I never skim a good read just to meet a deadline.