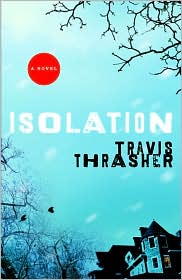 About the book:
James Miller is a burned-out missionary whose time on the mission field in Papua New Guinea left him exhausted and disillusioned. His wife, Stephanie, feels like she's losing her mind. After moving to North Carolina, Stephanie begins seeing strange and frightening things: blood dripping down the walls, one of her children suffocating. Premonitions, she's sure, of what's to come. As the visions and haunting images intensify, Stephanie asks her brother to come for a much-needed visit--but he's hiding secrets of his own that will prove more destructive than Stephanie can imagine.
Nine-year-old Zachary sees his family's move as an adventure, and as he explores the new house, he discovers every young boy's dream: secret passageways and hidden rooms. But what seems exciting at first quickly becomes altogether frightening. When a snowstorm traps the Millers, the supernatural dangers of their new home will test everything they thought they knew about each other, and about their faith.
Review:
Travis Thrasher did an excellent job scaring me to death. Isolation had many scenes that kept me on the edge of my seat, that's for sure. However, in between it dragged a little for me. It might be my short attention span, but I need some action-packed scenes pretty closely one after another. I love how honestly Travis Thrasher portrayed James Miller. A godly man struggling with his faith. I felt the struggle, deep in my bones because it was so well written. And then there's the ending....oh, the ending was so good. Well worth the read.
Review written by Lynn Rush