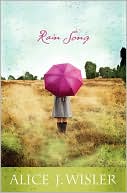 About the book:
Unspoken secrets surround Nicole Michelin's childhood as a missionary kid in Japan, but she's quite satisfied with her American lifestyle. She enjoys writing about fish in her online column---where she meets Harrison Michaels. When he hints at having connections to her past, will Nicole listen? Is she ready to know the truth?
My review:
Rain Song
is an enjoyable read. There are dysfunctional family members with quirky habits, and plenty of unusual situations that keep you reading. I enjoyed the story but can't say that it moved me emotionally. I liked the subplot with Monet and Nicole's cousin Grady. I wish this could've been expanded a bit. The aunt with the cough I though surely would get cancer or something the way she was hacking all the time. And the grandmother was charming.
I wish I could've spent more time with Harrison (beyond the e-mails). I would've loved to have gotten to know him better, but when she finally visited him it all happened at the end of the story and a lot was implied. So while I found the storyline fascinating and the search for memories of her mother poignant, it never moved me to tears. Not even the break up with the prior boyfriend. I think it's because Nicole never really grieved. She seemed distant from her own pain. Not very healthy.
I also like more romance in a story, and this one barely touched on the subject. Again, she seemed pretty unemotional about everything. Maybe that was because it was written in the first person POV. I'm not sure. It was a charming story, though, and a perfect beach read type of book. If you want a story that will pull you through an emotional rollercoaster of feelings, this isn't it. But if you like a story with interesting characters and situations that won't bore you to pieces, this is a good read for that.
Rain Song
was published by
Bethany House
and released in October 2008.