I'm excited about this giveaway for numerous reasons. 1) John is a cool guy and a friend of mine. 2) His book just released October 1st so it's brand spanking new off the shelf and 3) I started reading it and it's flippin' weird but hard to put down. I think you all who love adventure and stuff that is a tad insane will enjoy this book. So to enter the contest simply post your name and I'll put it in the hat. I draw a winner's name on Sunday (assuming I have no internet troubles in NY).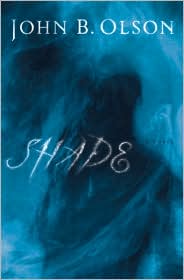 About the book:
A monstrous waking nightmare is pursuing graduate student Hailey Maniates across San Francisco to Golden Gate Park where she is rescued by a towering homeless man. She seems to be able to read her rescuer's mind, but is it just a delusion? A mind-bending supernatural thriller in which Hailey can no longer tell reality from fantasy.
My thoughts:
This story is intense, action-packed, and...weird. How does the man come up with this stuff?