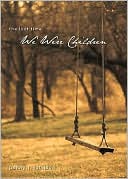 I couldn't find a description of the book on any of the review sites so I'm just posting my review.
My review:
I prefer novels to poetry, but this book of poems had some poignant prose that made me stop and think about the meaning. Like the Psalms, there is a story within the lines. This book was divided into four parts, like "themes." I particularly enjoyed parts 2-4. My favorite poems were Offering, Matins, and Adjusting the Darkness. If you enjoy poetry that includes family, faith, and memories, you'll enjoy this collection of poems by Penny J. Johnson.
This book of poetry was published by
Tate Publishing
and released in 2007.