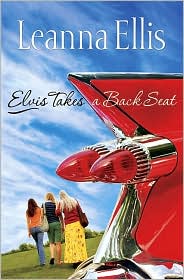 Memphis or Bust.
Determined to fulfill her husband's last request, Claudia McIntosh is hauling a three-foot bust of Elvis Presley in the back seat of a vintage Cadillac from Dallas to Memphis, hoping to locate the kitschy sculpture's rightful owner. Along for the ride are her eccentric aunt who knew the King of Rock 'n' Roll, and a tempermental teen with a suspicious mind of her own. When the road trip hits the Heartbreak Hotel, these three women uncover pieces of their past along with the bust's mysterious history — discoveries that will leave them all shook up and change their lives forever.
My review:
There are so many books out there and so little time to read them all. This is one story I recommend you take the time to enjoy. While there is nothing fluffy about this book, it does have it's humorous moments. There are also some very deep moments and emotional ties that develop between these friends whe secrets come out that challenge their beliefs. I found some of the struggles they dealt with to be very true-to-life. And when it comes to grief and loss, I dare say I don't think I've read anything more real and honest than Claudia's perspective. I've read a lot of stories where people were angry with God for losing a loved one, but Leanna Ellis makes this one feel...real. It's hard to explain, but if you know someone who is angry and feels far away from God because they can't seem to let go, this would be a great book to give them to help them work through that.
But this story is more than just a glance into someone's pain, it's a compelling tale of three women who all have serious issues to deal with. The dialogue is natural and feels so real. The way the author brings these issues to the forefront through the story is incredibly well-done. You can actually learn something about your own heart and your own relationship with God from reading this story. That's a skill few authors have, and that's what makes it fabulous Christian fiction in my book. It moved me to tears and blessed me tremendously. I highly recommend it.
Elvis Takes a Back Seat was published by Broadman and Holman and released in January 2008.