I was actually one of the women surveyed for this book project (there were hundreds of us.) At any rate, this is the best resource I've seen in years for a women's group or even to do as a devotional study. That's what I'm using it for right now. It's great stuff! Make sure when you post a comment to give your name or e-mail or something. Being anonymous makes it impossible to contact the winner. Thanks!!!
Now, about the book...

What Women Want - The Life You Crave and How God Satisfies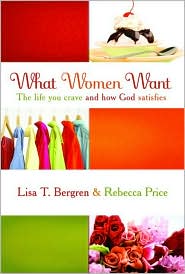 Synopsis
From a deeper relationship with God to harmony in the home, from stronger marriages to more satisfying work: Women Want More.
In What Women Want bestselling author Lisa T. Bergren and Rebecca Price invite readers to thoughtfully consider their soul-deep longings — and pursue God's best in every area of life. Using in-depth interviews from a national survey and hundreds of personal interviews, biblical narratives, their own personal stories and inspiring quotes, the authors point fellow seekers toward the kind of wholeness God desires, providing lots of fun and inspiration along the way. They explore friendship, how and where to find happiness, health, and more with an eye on physical, emotional, and spiritual matters.
A Bible study, designed for personal or group use and tested with dozens of women's ministries around the country before publication, is included at the end of each chapter.
Young or old, married or single, with children or without, striving in the workplace or working in the home, readers will resonate with Lisa and Rebecca's descriptions of the life women crave, and learn how God fulfills the very desires He stirs.
What women want is no secret. But discovering the God who satisfies might just be the adventure of a lifetime.