This time I'm not only giving you a description of the book, but a copy of my review as well. This is a gorgeous hardcover book that is so beautiful you will want to put it on a display! To win a copy of the book all you have to do is post a comment on this blog. Thanks!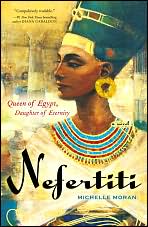 Product Details
ISBN: 0307381463
ISBN-13: 9780307381460
Format: Hardcover, 480pp
Publisher: Crown Publishing Group

From the Publisher:
Nefertiti and her younger sister, Mutnodjmet, have been raised in a powerful family that has provided wives to the rulers of Egypt for centuries. Ambitious, charismatic, and beautiful, Nefertiti is destined to marry Amunhotep, an unstable young pharaoh. It is hoped by all that her strong personality will temper the young Amunhotep's heretical desire to forsake Egypt's ancient gods, overthrow the priests of Amun, and introduce a new sun god for all to worship.

From the moment of her arrival in Thebes, Nefertiti is beloved by the people. Her charisma is matched only by her husband's perceived generosity: Amunhotep showers his subjects with lofty promises. The love of the commoners will not be enough, however, if the royal couple is not able to conceive an heir, and as Nefertiti turns her attention to producing a son, she fails to see that the powerful priests, along with the military, are plotting against her husband's rule. The only person wise enough to recognize the shift in political winds—and brave enough to tell the queen—is her younger sister, Mutnodjmet.

Observant and contemplative, Mutnodjmet has never shared her sister's desire for power. She yearns for a quiet existence away from family duty and the intrigues of court. Her greatest hope is to share her life with the general who has won her heart. But as Nefertiti learns of the precariousness of her reign, she declares that her sister must remain at court and marry for political gain, not love. To achieve her independence, Mutnodjmet must defy her sister, the most powerful woman in Egypt—while also remaining loyal to the needs of her family.

Love, betrayal,political unrest, plague, and religious conflict—Nefertiti brings ancient Egypt to life in vivid detail. Fast-paced and historically accurate, it is the dramatic story of two unforgettable women living through a remarkable period in history.

My review:

Nefertiti is an unforgettable novel. It's one that draws you into another world as long as you are reading it, and lingers in your thoughts after you are done. Brilliantly revealed through the eyes of Nefertiti's only sister, the rich history of ancient Egypt comes to life. The culture, art, food, clothing, and other details make for an authentic setting as well. I haven't read a novel that has gripped me as much as this one has in a very long while. The portrayal of Nefertiti's rise as co-regent and Pharaoh, her greed, lust for power, the jealousy between wives, and the agonizing pain of her many losses all seemed incredibly real to me.

At first I felt bad for Mutnodjmet because she had an obligation to serve her sister, but she was truly the most loyal and honorable person in her family. I could imagine what her life would have been like and I developed an emotional connection to the fictional character Mutnodjmet. Her only sister, queen Nefertiti, was a powerful but also self-absorbed and demanding ruler. And yet, over time I came to pity Nefertiti and understood Mutnodjmet's torn feelings toward her family. I could sense the fear of abandonment that dictated much of Nefertiti's rash decisions.

I grieved along with Mutnodjmet the loss of her first child, felt her longing for another, and experienced her pain at seeing her sister give birth to six children, all princesses, while seemingly barren herself. Just when I thought things couldn't get any more intense, the story picked up more suspense as the turn of events became more frenzied. The precariousness of the royal family's rule became evident and eventually crumbled as Pharaoh made one poor decision after another.

I also found the spiritual portion of this book fascinating. In fact, reading this story has made me want to break out my video of The Ten Commandments starring Charlton Heston! In so many ways Amunhotep/Akenhaten reminded me of Ramses in regards to his stubbornness. I sensed the hopelessness the Egyptians had because of their slavery to the gods. The politics in this novel were also incredibly well done and in some ways aren't much different than what we see in many governments around the world today. I highly recommended this book to any audience of readers as the language is not offensive and there is no graphic sex in this story, though many things are obviously implied. I can't wait to get my hands on the sequel!

Nefertiti was published by Crown Publishing Group and released in July 2007.