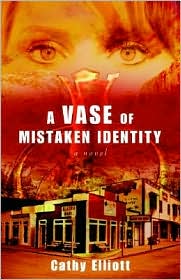 About the book:
When Thea James discovers a puzzling list inside a vintage vase, she finds four names on the list . . . including her own! Follow this small-town antique dealer as she becomes a relentless detective on the trail of a killer in this page-turner mystery.
My review:
The heroine, Thea James, in
A Vase of Mistaken Identity
is probably the quirkiest character I've ever come across in a novel. Her equally antiquated name really fits her personality. She did some really bizarre things in the story, and her family were all pretty strange, too. Especially her grandmother. What a hoot! Some of the things grandma said in front of Thea made the heroine want to slide under the proverbial table more than once. LOL!
Anyway, at first the story sucked me in. I even snorted a few times, like when Thea was at the car wash. I felt bad for the poor dear, especially when the person she least wanted to see her looking a mess was at her relatives' home for dinner. The author did a bang-up job with that scene. I was there! However, I'm not much of a cozy mystery reader, so I don't know how things should pan out exactly in regards to the plot. Some of the metaphors seemed over-the-top, and others were perfect!
A few bunny trails took me off the path and made me set the book down a few times. When I picked it up a few days later and the action rekindled, I found myself riveted until things slowed down again. I think this is the first truly cozy mystery I've enjoyed. My favorite lines were...
Or perhaps Thea had better build up the walls around her heart that had begun to crumble in the last few days.
She could sense her inner child gathering rocks.
Is that a creative line or what?
This story was fun and a few times had me desperately wanting to find out what the deal was regarding the vase. Then it dragged a bit, then picked up again, etc., etc... Overall, it was an enjoyable read. Initially I thought the book should have ended earlier, but then the last few pages made me change my mind. I smell another book percolating in the series, and the ending whetted my appetite for another zany mystery courtesy of Thea James, amateur sleuth extraordinnaire. :) The diner scene at the end was a bit too corny for my tastes, but overall I enjoyed this story enough to recommend it.
So if you want to read about some very zany people and snicker at their antics, you will want to read this book.
A Vase of Mistaken Identity
was published by
Kregel
in April 2006.