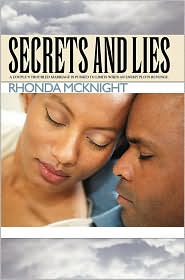 About the book:
Faith Morgan is struggling with her faith. Years of poor communication and neglect leave her doubting that God will ever fix her marriage. When a coworker accuses her husband, Jonah, of the unthinkable, Faith begins to wonder if she really knows him at all, and if it's truly in God's will for them to stay married.
Pediatric cardiologist Jonah Morgan is obsessed with one thing: his work. A childhood incident cemented his desire to heal children at any cost, even his family, but now he finds himself at a crossroads in his life. Will he continue to allow the past to haunt him, or find healing and peace in a God he shut out long ago?
In her debut novel, Secrets and Lies, Rhonda McKnight delivers unforgettable characters and page-turning drama about a couple whose troubled marriage is pushed to its limits amidst secrets, lies, and an enemy set on revenge.
My review:

Secrets and Lies
was compulsively readable. I kept wanting to see what would happen next. I loved how the author showed how bitterness can keep you from truly giving your heart to others and enjoying close relationships with them. I also loved how she showed that deep-set hurts going back to childhood can influence adults' lives in the present day until the past is dealt with and forgiveness occurs. That was very well done. And while not very edgy, I found the story very genuine and real. It's obvious the author understands relationships and human frailty.
I really loved the true-to-life conflicts and those husband and wife scenes when they were enjoying good times together. Those scenes made me smile. I couldn't relate to Faith all that much because I'm not one to harbor anger against someone and bitch at them when they are already feeling low, but I have been in her shoes where I've been confused and not sure what to do about situations. I also know a lot of people like her who handle things the way she did.
I think I identified most with Jonah because I saw how he chose to ignore so many things that would bring him pain if he dealt with them. A lot of men are just like Jonah. They avoid issues rather than dealing with them head on. And like the Biblical Jonah, this poor guy had to be sucked into a nasty fish's belly full of life's troubles to realize just how bad he'd let things get. The relief he felt when he was finally spit up on the beach and given another chance to heal and make things right was truly moving. Same with the whole underlying story regarding Amadi.
Secrets and Lies
made me cry real tears, which is why this story is making my best of 2009 list. I could not set the book aside and I had to finish it. Plus, the story moved my heart. Those are the two main qualities that make it an excellent novel to me. I highly recommend it.
Secrets and Lies
was published by Urban Christian and released in December 2010.