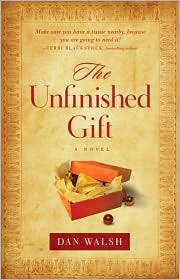 About the book:
Patrick Collins is seven years old, and on his Christmas list are only three items. He wants the army to find his father. He wants to leave his grandfather's house. And, for reasons even he doesn't understand, he wants the soldier that's tucked away in his grandfather's attic. Set at Christmastime in 1943, The Unfinished Gift tells in an engaging, simple style the story of a family, and reminds us of the surprising things that affect powerful change in our hearts--like a young boy's prayers, a shoebox full of love letters, and even an old wooden soldier, long forgotten. This nostalgic story of forgiveness will engage readers everywhere.
My review:
Dan Walsh's debut novel was impressively written for a first book. The story reminded me of one I'd read several years ago by Tracie Peterson that took place during WWI. It was titled
Silent Star
. That story also made me tear up toward the end. I really enjoyed this book and the author's characterization of Patrick and his grandfather even though I'm not a big fan of Christmas stories. The WWII setting, including the role of the social worker and the police in the story, felt genuine to me. While reading my mind was firmly set in the 1940s and stayed there for the entire book. That was very well done. I also liked how the author showed the reality of the times. There were things done in those days that would never be allowed in the modern era. My how times have changed. And the transformation in the hearts of bitter and confused characters rang true to me. All in all, this was a great book to read in front of the fire over the holidays and would make a great Christmas gift for people who enjoy nostalgic stories set during the Christmas season. *note* It looks like their is a sequel coming out for this book and I am definitely going to read it. I was hoping their would be one and was delighted to see a sequel listed.
The Unfinished Gift
was published by
Revell
and released in Sept. 2009. A complimentary copy was given to me to review.