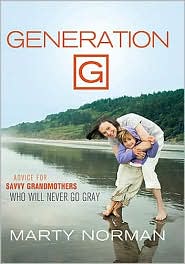 About the book:Advice from the heart of a rather hip and savvy Baby Boomer grandmother offers insight forgrandmothering in the twenty-first century.
The rules for grandmothers have changed. The new silver generation is savvy and sophisticated-managing businesses, working out with a personal trainer, and traveling to exotic locations. But what about their care and nurturing of the next generation? How can they stay connected and leave a legacy, cheerleading and hand-holding those who come behind?
This handbook provides encouragement for grandmothers with the real issues they face today. Seven sections of essayschallenge grandmothers to become healers, peacemakers,repairers of the breach in families, and to celebrate life transitions and aging. Topics, both humorous and serious,range from the importance of choosing a name, waiting at the hospital, and getting wrinkles to blended families, step-grandparenting, in-laws, boundaries, and dying. Generation G will inspire grandmothers to realize their calling is great and their gift, of themselves, essential.
My review:
This was a pretty good book for non-fiction. It makes me look forward to being a grandmother some day. There were a lot of cute stories and snippets from the author's life experiences in this book. Also, it reads a lot like a devotional with each chapter being only a few pages long. The book is very reader-friendly.
Generation G
was published by
Thomas Nelson
and released in March 2008.