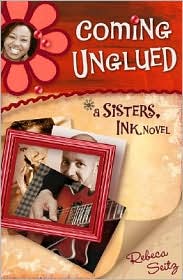 About the book:
Coming Unglued
is the second book in the SISTERS, INK series of novels. At the center of the creativity and humor are four unlikely young adult sisters, each separately adopted during early childhood into the loving home of Marilyn and Jack Sinclair.
Ten years after their mother Marilyn has died, the multi-racial Sinclair sisters (Meg, Kendra, Tandy, and Joy) still return to her converted attic scrapbooking studio in the small town of Stars Hill, Tennessee, to encourage each other through life's highs and lows. They've even turned their artistic passion into a new local scrapbooking business known as Sisters, Ink.
Coming Unglued
focuses on painter and musician Kendra who struggles with her sense of self-worth—a struggle that only intensifies when she realizes a "friendship" developed with a guy at a jazz club is actually an emotional affair. With her sisters' help, Kendra strives to do what's right, embracing the call to safeguard her heart and mind and hold fast to God's truth and grace.
Guest book review written by Sarah Salter:

Coming Unglued
is about four adopted sisters with each book highlighting a separate sister. This installment focuses on the lively, creative, vivacious Kendra Sinclair.
Kendra's life before joining the Sinclair family wasn't a happy one. Unfortunately, it was one of abuse and very little love. Although the Sinclairs adopted her and loved her, she still has hurt places. When a married man, Harrison, begins to show her tenderness and affection, Kendra finds herself spiraling towards an emotional affair. She tries to be satisfied with her Christian boyfriend, Darin, but she doesn't feel that she deserves him. Harrison is very persistent and she can't seem to say no to him, but she can't live a double life forever.
I loved all of the fiercely loving and loyal Sinclair family, as well as the boyfriend, Darin. They were exactly the kind of family and friends that everyone should be blessed to have. They loved Kendra deeply enough to give her the hard truth when it was needed and to patch her up when she needed it.
Kudos to Seitz for facing and embracing taboos and sensitive topics! Kendra had a real-life problem—the temptation to give into the hurts of the past and have an affair. While many would avoid this topic, Seitz exposed it, explored it, and gave insight on how to be healed from it. This was an insightful, but entertaining book. I would recommend it and will expect great things from Seitz in the future.

Coming Unglued
was published by
Broadman and Holman
and released in July 2008.