To enter your name to win a copy of this book simply post a comment about your ancestors. When did they arrive in the United States of America? Or, if you live in Canada, tell us about how your family got there. I'll start. On my father's side our ancestors came to America in the 1600s and landed in Massachusettes near Boston, but not Plymouth Rock. That would've been too fun. I can't remember the name of the landing spot. And on my mother's side her grand parents immigrated from Canada and were French Canadian. SO that's my heritage. I can't wait to hear your stories. This contest is open only to US and Canadian citizens. Sorry!
The winner will be notified next Sunday. I will also post their name here at that time.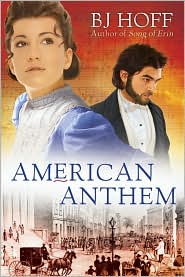 About the book:
From the teeming streets of New York City to the lush mansions along the Hudson River Valley, immigrants helped shape America. Meet blind musician Michael Emmanuel; Irish-born Susanna Fallon, who seeks revenge for her sister; lonely Scottish physician Andrew Carmichael; and the MacGovern family, struggling to survive the 19th-century slums. Includes Prelude, Cadence, and Jubilee. So it's essentially an entire series in a one book format.
My thoughts:
This is a smoking deal because all three books in the series are bound in this edition. I read all three books when they first released and they were all fantastic. If you love historical fiction and romance, you'll get lots of entertainment from this series. Promise!