About the Author:
Virginia Smith left her job as a corporate director to become a full time writer and speaker with the release of her first novel Just As I Am. Since then she has contracted ten novels and published numerous articles and short stories. She writes contemporary humorous novels for the Christian market, including Murder by Mushroom, Stuck in the Middle, and her newest releases, A Taste of Murder and Age before Beauty.
In March of 2008 she was named "Writer of the Year" at Mount Hermon Christian Writers Conference. An energetic speaker, Virginia loves to exemplify God's truth by comparing real-life situations to well-known works of fiction, such as her popular talk, "Biblical Truths in Star Trek." Visit Ginny online at
www.virginiasmith.org
.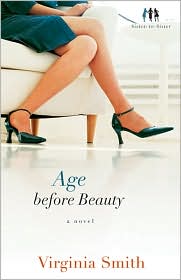 About the Book:Age before Beauty (Book 2 in the Sister-to-Sister Series)
Desperate to stay home with her baby, Allie Harrod launches a new career. Sure, she dropped out of Girl Scouts because she was lousy at cookie sales, but makeup is different, right? She'll do anything to make enough money to cover her share of the household bills, but how can she focus on her business when her list of problems is growing? None of her pre-baby clothes fit, her checking account is dwindling, and her mother-in-law has decided to move in! To top it off, her husband's attractive coworker suddenly needs his help every weekend. Middle sister Joan insists that God has the answers to all her problems, but Allie isn't so sure. Can she really trust him?
My review:
Delightful and funny on the one hand and serious on the other,
Age Before Beauty
deals with issues that all new parents face. I could relate to everything that came up from Allie wanting to look good in pre-pregnancy clothes to not wanting to return to work and leave the baby with a sitter. The way Allie's husband responded to her insecurities was heartwarming at times, and at other times frustratingly true. He often withdrew rather than confronting the issue. And his mother moving in to their home was classic! I loved how Allie brought the woman around from the dark side. This developing relationship illustrates how important it is to love the unlovely. In the case with Allie, the rewards went beyond anything she imagined. Also, the characters were interesting and quirky. I love that. Finally, the spiritual arc of the characters was gratifying. I loved how the story ended.

Age Before Beauty
was published by
Revell
and released Feb 1, 2009.
Watch the book video trailer!