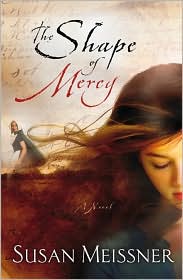 About the book:
"We understand what we want to understand."
Leaving a life of privilege to strike out on her own, Lauren Durough breaks with convention and her family's expectations by choosing a state college over Stanford and earning her own income over accepting her ample monthly allowance. She takes a part-time job from 83-year-old librarian Abigail Boyles, who asks Lauren to transcribe the journal entries of her ancestor Mercy Hayworth, a victim of the Salem witch trials.
Almost immediately, Lauren finds herself drawn to this girl who lived and died four centuries ago. As the fervor around the witch accusations increases, Mercy becomes trapped in the worldview of the day, unable to fight the overwhelming influence of snap judgments and superstition, and Lauren realizes that the secrets of Mercy's story extend beyond the pages of her diary, living on in the mysterious, embittered Abigail.
The strength of her affinity with Mercy forces Lauren to take a startling new look at her own life, including her relationships with Abigail, her college roommate, and a young man named Raul. But on the way to the truth, will Lauren find herself playing the helpless defendant or the misguided judge? Can she break free from her own perceptions and see who she really is?
My review:
The Shape of Mercy
is the kind of book you want to read more than once. There is so much in it to ponder! I adore books that leave me with a sense that I received something deeper than just a story by the end of the book. I love books that make me feel connected to the characters, too. We all tend to judge things based on first impression and we all have biases as the result of our upbringing and family/culture we were raised in. It's interesting to see how much Lauren's self-perception is based on something that isn't even true, and the same goes for her perception of others and what motivates them.
It's not easy to write a story that is in the past and the present where both areas hold equal interest for me. In many books I have a preference for the historical portion and tolerate the contemporary part of the story for the sake of the novel. On occasion I even find myself tempted to just skip or skim the modern parts and read the historical portion by itself. In
The Shape of Mercy
both time periods held my interest. It was a very well-balanced book. The tender romances developing in both eras also warmed my heart. This is an unforgettable tale about love gained and lost, and of needless tragedy and wasted years. It's also a story of inner beauty and hope that will conquer guilt and regret if we let God work in our lives for our own benefit. Excellent story and one I'd highly recommend to anyone.

The Shape of Mercy
was published by
Waterbrook/Random House
and released in Sept. 2008.