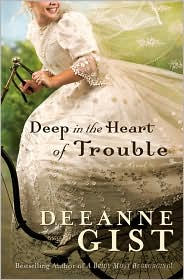 About the book:
A Texas-Sized Tale of Unexpected Love Essie Spreckelmeyer is the last woman anyone in Corsicana, Texas, expected to see with a man on her arm. Independent and outspoken, she's known more for riding bicycles in outrageous bloomers than for catching a man's eye. And the last man who seems willing to give her a second glance is Tony Morgan, newly hired at Spreckelmeyer's oil company. The disinherited son of an oil baron, Tony wants most to restore his name and regain his lost fortune--not lose his heart to this headstrong blonde. She confounds, contradicts, and confuses him. Sometimes he doesn't know if she's driving him toward the aisle or the end of his rope. That's how life is...
Deep in the Heart of Trouble
.
My review:
Gist knows how to write a fun and inspiring read. I just loved quirky Essie Sprecklmeyer and the other characters in this book. She was spunky and smart, but also vulnerable and sweet when she let her guard down. The title is fitting, too, and reflects the the theme of the story well. The hero, Tony, is the kind of guy women can't help but like except for the part toward the end when he was upset, but even then it was hard to be mad at him because the author did a great job of helping you understand his hurt and how it all tied in to his other issues.
I enjoyed the prior book,
Courting Trouble
. Even though it had an atypical ending, I thought it fit the story well. This addition to
Courting Trouble
was a fabulous and satisfying way to end things. The whole scenario with the rivaling oil companies and the external and internal conflicts in this story were well thought out and made sense. The pacing was also good, especially at the end. There was a spot in the middle of the book where my interest waned and I set the book aside for several months. But when I picked it up again and started reading it wasn't long until I was back into the story full swing.
My all-time favorite character was probably Mrs. Lockheart. I totally adored her habit of quoting romance novels to solve problems and thought it was a scream how she started getting other people to read them as well for the advice she wanted to convey.
Of course, for me the most enjoyable part of all of Deeanne's novels are the stolen kisses and the tension between the hero and heroine. I love the push-pull in romances and this author is a master with showing passion between people in love and yet reigning them in before things got out of hand. Toward the end I really didn't see how they would get out of the mess they were in but Deeanne did a great job dragging out the tension just enough to make you sweat, then offering a satisfying conclusion. I really enjoyed this read. Except for the lag in the middle it was nearly perfect.
Deep in the Heart of Trouble
was published by
Bethany House
and released in June 2008.