To win a copy of this book simply post a comment saying why you want to read it. I will pick a winner Wednesday night or Thursday at the latest. Please don't forget to leave me a way to reach you if you win.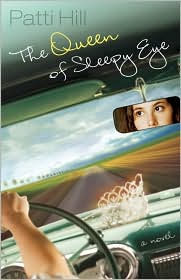 About the book:
En route to college in the summer of 1975, sensible seventeen-year-old Amy gets stuck in smalltown Colorado when the 1958 Bonneville Sports Coupe driven by her insufferable tiara-toting mom, Francie--former Queen of the Sleepy Eye, Minnesota, Corn Festival--surrenders to a mortally wounded transmission.
It doesn't take long to realize that thirty-three year-old Francie is out of money and in no hurry to let go of her daughter, so the two unpack indefinitely. Amy finds work at a funeral home, a place her unlikely Christian faith can work itself out among the town's young and old, geeks and jocks, hippies and clergy alike.
Trying not to judge her mom's serial boyfriend's escapades, Amy ends up in a tragic love triangle herself which gives both mother and daughter the chance to do some real growing up. But in a surprise twist, their road to healing still has many miles to go in 2008 as they travel back to Sleepy Eye in that old '58 coupe.

My thoughts:
I've read the first two chapters so far. The story is told in the first person point of view. Amy's mother is a real fruit loop. Kind of reminds me of Forrest Gump's mother in the movie. Oy.