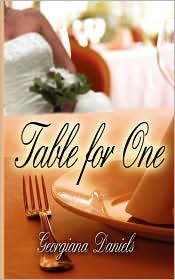 Product Description
Successful stockbroker Lucy Brocklehurst hasn't had a date in four years. In a town where the ratio of single women to men is 7:1, she's determined to wait on God for the perfect mate-as long as it's the hot new youth pastor at her church. Lucy will do anything to get his attention, including volunteering for the youth group. Through a series of misadventures on the teen outings, Lucy finds herself falling in love with a kindhearted chaperone named Edgar Flowers. But when their relationship grows serious, Lucy discovers the lengths his recently-widowed mother will go to in order to keep them apart. What starts out as harmless interference turns into an all out tug of war, with Edgar as the prize! Will Lucy crumble under the scrutiny of her would-be mother-in-law? Or can Lucy and Edgar's budding romance survive the schemes of his meddling mom?
My review:
Table for One
was laugh out loud funny. I mean really funny. I felt bad for poor Lucy who seemed to make more bad decisions than good ones, but I loved her anyway. She was a great heroine. Edgar was a fabulous hero, too, even if he was a momma's boy. I don't think I would've handled his mother as graciously as Lucy had. My favorite line in the story is
Cricket. Cricket
. That is during a part of the story where everything stops and no one makes a sound. Isn't that a fabulous way to describe how things go quiet and everyone stares at you. :) I totally loved the author's voice and I think she did a great job with the first person present tense point of view. That is very difficult, but she pulled it off. And this story was mercifully free of cliches. The hilarious thoughts and comments that Lucy had were incredibly well-thought out and very funny. This story touched my heart and tickled my funny bone at the same time. The spiritual arc was superb. I just can't say enough good things about
Table for One
. I'm thoroughly impressed!