To win a copy of this book, simply post a comment. I'll pick a winner on Wednesday. Don't forget to give me a way to contact you if you win.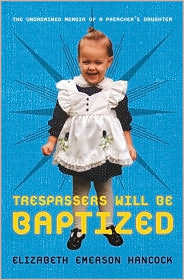 Synopsis
Growing up Southern and Baptist in Eastern Kentucky, Elizabeth Hancock's world revolved around Sunday School, foreign missions projects, revival meetings and of course, the Kentucky Wildcats, who "glorified God through their goal-shattering, soul-shattering play." Hancock chronicles her childhood misadventures with sardonic wit, detailing her and her sister Meg's mischievous - if harmless - abuses of power (stealing Guess jeans from the Africa donation box, or hawking backyard swimming pool baptisms during her neighborhood's annual yard sale) and lovingly recalling the wisdom imparted by her long-suffering parents as they ministered to their unruly flock. TRESPASSERS WILL BE BAPTIZED marks the arrival of a talented new voice in a coming of age story that is by turns comical and affecting.
My thoughts:
This book has some funny stuff in it, no doubt. If you like memoirs that poke fun at the religious foibles in our culture, you'll find this amusing for sure!