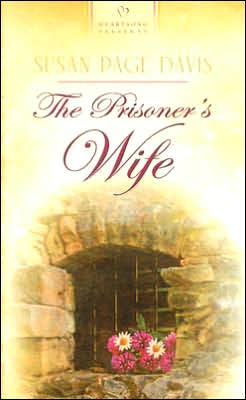 About the book:
Lucy lost Jack years ago. Jack Hunter's father was a drunk and a criminal, and Lucy Hamblin's father believed the apple lay near the tree. When her father forbade their love, Lucy buried her heart out of obedience, but she never stopped loving Jack. On a strange evening four years later, she's summoned to the local jail. Jack has been accused of murder and has a request to make of Lucy. It appears Jack Hunter will hang in the morning, and to preserve his property and provide for the woman he loves, he asks Lucy to marry him. When his trial is postponed and ultimately dismissed, Jack has new worries: Lucy agreed to become a prosoner's widow, not the wife of a man her father despised. Can Lucy and Jack accept he Lord's miracle of preservation - of Jack's life and reputation...and the love they believed they'd lost?
My review:
Set in the early 1700s,
The Prisoner's Wife
was a delectable romantic historical filled with action, suspense, and heart-pounding moments. I sat at the edge of my seat as Jack was accused of murder and worked up a sweat wondering how he would get out of the situation. The love that developed between Jack and Lucy was precious, and yet both of them were reluctant to share their true feelings out loud. It was so neat when he wanted to read the Bible with his new wife and pray with her. Lucy's enthusiasm was contagious. I felt her joy! And as the romance developed between them with such sweet longing and increasing fervor, I found myself turning the pages and thinking about the story even when I had to set it down to go to work. I loved it! It's one of the most romantic tales put out by Heartsong that I've ever read. It will take your breath away, I promise!
The Prisoner's Wife
was published by
Heartsong Presents
and released in 2006.