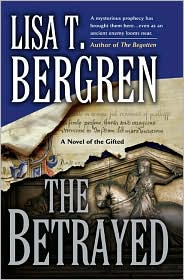 About the book:
A religious thriller. An epic historical. An award-winning author with one million books in print. Second in the breathtaking trilogy.
The first book in Lisa T. Bergren's Gifted trilogy,
The Begotten
, was hailed by Library Journal as "a full-bodied, absorbing tale that combines authentic historical detail with a universally appealing and gripping story that will have readers cheering." Now the breathtaking quest of the spiritually empowered Gifted ones-prophesized in a long-lost illuminated letter from the apostle Paul-continues as the healer, the priest, and the knight gather together to fight a battle in a profound new war. For the enemies of the Gifted are gathering, led by an evil lord who will do anything to destroy their unwavering faith.
My review:
I totally loved the first book in this series,
The Begotten
. It was fabulous. The second book in this series,
The Betrayed
was just as good. I recommend reading the series in order. There was a point in the middle of
The Betrayed
when I put this book down due to other commitments, but when I picked it up again I was pulled right back into that world.
The brutality the "gifted" experienced was as powerful as the miraculous events. I couldn't believe how many times they were captured after trying to get free. And being pursued like that had to make them crazy. I found the parallel between the "dark" lord and Satan quite interesting. He would get furious when Daria quoted scripture during times of suffering, yet that was the one thing that sustained her. For me, another profound conclusion from this story was how God will sometimes allow others to suffer alongside us to provide encouragement.
I loved the message about God's perfect timing and tuning into his voice. And the strategies that the evil Lord, Sorcerer Abramo, used to try to break them were so similar to the devil's. First he tries luring you in with your own lusts and weaknesses. If that doesn't break you he goes after your flesh (like with sickness) and if you still refuse to curse God in the midst of that pain he tries the ultimate tactic of hurting those you love. What a wicked enemy we have!
Bergren did such a fabulous job of making me see how the enemy works through this parallel story. It makes me want to memorize more scriptures that I can use when I need encouragement and when I need to fight off the enemy's attacks. As far as the edgy factor goes? I'd rate this with 8 out of ten stars for edgy content. If you want to experience an adventure that will both thrill you and at the same time cut you to the very marrow of your bones, you will love this book.

The Betrayed
was published by
Berkley/Penguin Group
and released in Sept. 2007.