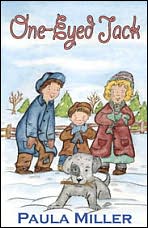 From the Publisher:
This story tells the tale of a boy, Nate, on a cattle ranch in 1880's Montana. Nate has always wanted a dog, but his Pa does not. Only grudgingly does Pa allow Nate to keep the nearly dying puppy he finds. Nate must struggle to control his new dog and allow the Lord the time to sway his Pa's heart.
My review:
One-Eyed Jack is a delightful story about a boy who loves his dog, and the lessons he learns about life from the mishaps and trials he experiences because of One-Eyed Jack's recklessness. This story has a Little House on the Prairie feel to it, but with a faith thread. Even though it's a children's story, I really enjoyed the book and read it straight through. Plus, I thought the pictures were adorable and complemented the story. I especially loved the part of the story where Nate and his dog are lost and he thinks he'll never see his family again. Despite his overzealous and clumsy ways, One-Eyed Jack was a lovable pooch and very heroic. And the ending of the story was really nice. It almost makes you want to cry like in the story Homeward Bound, where the animals find their way back to family after being lost in the wilderness. I definitely recommend this book.
One-Eyed Jack
was published by
Blooming Tree Press
and released in August 2006.